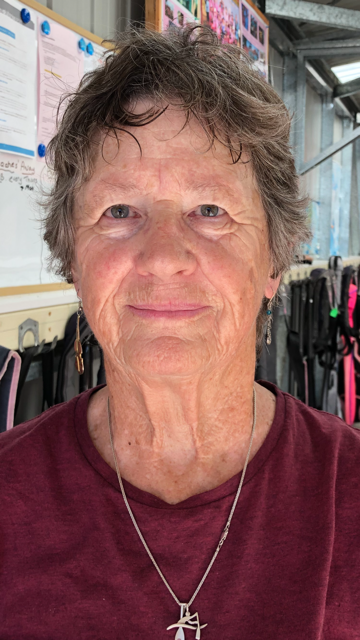 Beth Sowter – DA Bribie Island
Posted on: 10 November 2020
I prefer to call it "How I got into Dragon Boating" as it sounds much more positive and exciting. 2005 was the year of the diagnosis that put my head on another planet for a few days, but the treatment of mastectomy, chemotherapy and radiation was immediate, and continued into 2006 where I refused to stop organising my Celtic Music School in January ("you just watch me" I said when the others said "you can't do that") and on the final day of my radiation I flew to Canberra for the National Folk Festival ("you can't do that"…"you just watch me") and played celtic music for 600 dancers in colonial costume for several hours. The radiation blister was huge but I put a surgical pad over it, covered it with a blouse and played my fiddle resting on the surgical pad.
You can do anything if the will is strong. I'd been shown the information about the dragon boat trip up the Ord River that was the precursor to DAA, and that was it mate. I was hooked. I'd been thinking I might have to start a pinkie club myself, in Launceston, as Devonport and Hobart were too far to travel several times a week, when bingo….there was an ad in the paper in February 2007 for anyone interested in belonging to a new Dragon Boat Club in Launceston. I went to the inaugural meeting and was one of the first to join, and for the first 10 months of our existence we had no boat, so paddled on chairs upstairs in the newly built North Esk Rowing Club home.
Known as DANTI (Dragons Abreast Northern Tasmania Inc) or also as The Tamar Tittilators, we were in existence from 2007 until 2018, when we were obliged to close as our pinkie numbers were unsustainable and the community club which had formed in 2012 to help keep DANTI on the water, became stronger and wished to move in a different direction.
However, I'm grateful for the extra years they gave DANTI, and when I moved to Bribie Island in 2018 I was immediately welcomed into DABI, my new Dragon Boat club. I had already raced with this club at Caloundra the year before, so knew many members, and in Florida in 2014 many of DABI were my team mates in DAA Team Inspiration.
I'm currently feeling very healthy, happy, fit (well, as fit as Covid has allowed) and am looking forward to competing with our team in New Zealand in 2022. I do my lymph draining exercises, try to stay off the wine, eat well, love life, and don't dwell on the fact that I have one big boob on one side and no boob on the other. It was my choice not to have a reconstruction and I make jokes about it when I forget to put my prosthesis in and have to shove a fluffy teddy bear down my bra to make the shape (at work in the hospital library what's more).
My BC experience has been one first of disbelief, leading then to action, leading to acceptance, leading to the best sport and companionship I could ask for. I thank Dragons Abreast Australia for being a strong, vibrant support core for all of us around Australia who now paddle together, meet socially, laugh a lot, travel together overseas and I will quote the words of the speaker at the Sarasota Festival. "The doctors may have saved my life, but dragon boating has saved my spirit"