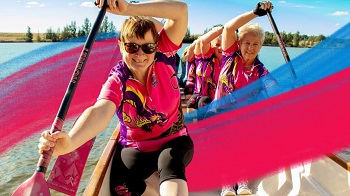 Dragon boat racing can provide physical strength and emotional support
Posted on: 26 September 2019
ABC Life profiles Dragons Abreast Penrith's Sharon Cooper!
Sharon Cooper got involved in dragon boat racing after her life was turned upside down.
She was diagnosed with breast cancer at 39.
Two years later, after finding a flyer for dragon boat racing in the surgery waiting room, she hasn't looked back.
"It's like the whole axis of your world tilts … [breast cancer] was the furthest thing from my mind," she says.
Dragon boating is similar to canoeing, except the fibreglass boats most commonly hold a much larger crew: 20 paddlers who sit in pairs, a drummer, who sits at the bow, and a sweep steering at the rear.
The drummer is often referred to as "the heartbeat" of the boat, as they set the paddlers' stroke pace.
A colourful dragon head is carved at the bow of the boat and is decorated for regattas — competitions where boats from different clubs race each other.
Read More!