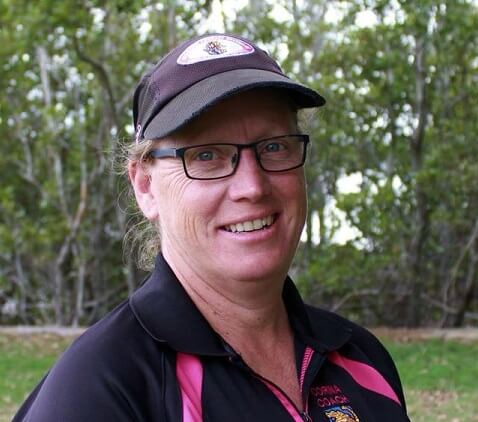 Corina Flies the Flag High for Breast Cancer Survivors
Posted on: 15 February 2018
When the flag bearers signal the opening of the Australian Dragon Boat Championships on Lake Kawana this March, one very special woman will be flying the flag high for breast cancer survivors across Australia.
Brisbane's Corina Bradley was selected to be the flag bearer for National charity, Dragons Abreast Australia, whose mission is to encourage wellness, fitness, fun and camaraderie for breast cancer survivors through the sport of dragon boating.
During treatment for breast cancer 16 years ago, Corina met some marvelous women who dragon boated and finally cajoled her into 'having a go' at paddling in 2005. After paddling socially for 6 months, Corina took the sport up competitively and now has several International and National Titles to her name.
Corina is an accredited Sweep (a person who stands at the back of the dragon boat and steers it while giving instructions for racing and safety of the crew and boat) and is currently Head Coach of the Dragons Abreast Brisbane team affectionately known as 'MISSABITTITITTI (MBT)'.
Corina was head coach and sweep of the Dragons Abreast Brisbane team that won the Breast Cancer Survivor Category 2000m race at the 2016 Club Crew World Championships.
In 2012, while training for the World Club Crew Championships in Hong Kong, she was selected as one of four Australians, representing Dragons Abreast Australia in the International Breast Cancer Paddlers Commission (IBCPC) world composite crew, 'Internationally Abreast' to paddle at the Queen's Diamond Jubilee Pageant on the Thames, in June of that year. A highlight she says is 'hard to top'.
As a member of this team, she spent many hours with Canadian pioneer of dragon boating for health after breast cancer, Dr Don McKenzie and women from 7 nations, gaining a broader understanding of the role that IBCPC has throughout the world in promoting the benefits of dragon boat racing and exercise after a diagnosis of breast cancer.
Corina says that, 'In the past 16 years, I have been most fortunate to be able to spread the word of an active lifestyle after a breast cancer diagnosis in a variety of arenas, including various gyms, government departments, Pink Morning Teas, School Assemblies and award ceremonies, Mother's Day Masses and High School Reunions.'
'It doesn't matter what level we participate at, we should always celebrate just being there.'