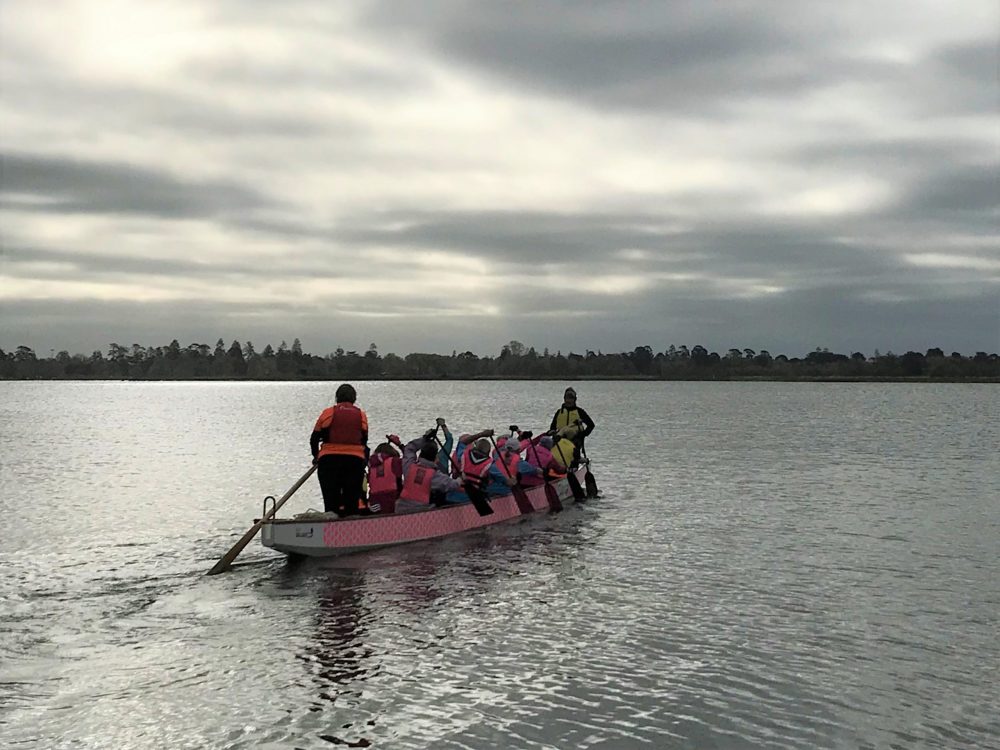 Dragons Abreast and all aboard
Posted on: 05 November 2020
AFTER seven months off the water, Ballarat's dragon boating community is back on Lake Wendouree.
Although only allowed 10 people in the boat due to COVID-19 restrictions, Dragons Abreast coordinator, Wendy Jacobs said members can enjoy a paddle on Tuesday evenings and Saturday mornings on a rotational basis.
"We normally have 22 people in our boat, including a steerer and a drummer, so it's challenging," she said.
"It's a lot easier when there's 20 paddlers, so you have to put a lot of effort in, but we've often paddled with only 10.
"We still enjoy it very much and we are grateful we can get back in the boat."
With the motto of 'fun, friendship and fitness,' Dragons Abreast has been boating in Ballarat for 15 years.
"Dragons Abreast is an international movement of dragon boating, consisting of breast cancer survivors and our supporters. We're open to all-comers, men and women, but you have to be 18 to join," Ms Jacobs said.
"We've had a few sons and daughters in the boat with us, and they're great to have along."
Dragons Abreast have been working closely with Wendouree-Ballarat Rowing Club, where they launch their boat, to support each other through the safe transition back to sport.
"It was very exciting last Tuesday to get back into the boat and head out across the lake. We all know our lake and have walked around it, but it's amazing and so lovely being out on it as a team.
"It's easy to learn dragon boating, but quite hard to master. When we're all working together, we can feel that, and it's wonderful paddling," Ms Jacobs said.
"We don't take ourselves too seriously. There's often gales of laughter coming from the boat. You can have a lot of fun, and when you put in a bit of effort, it takes things to a new level."
Looking forward to eventually welcoming fresh paddlers, Dragons Abreast will help new members onto the water once restrictions have eased.
"It's a nice way to get out with a great group and exercise in the fresh air. It really helps you with your return to life after breast cancer.
"We paddle with the Golden Dragons Ballarat. They're a sporting club, but we work together. You can dragon-boat from the age of 12," Ms Jacobs said.
Thanks to Ballarat News for allowing us to use a copy of this article.