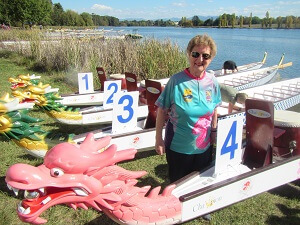 Great Results for DAA Crews at the Australian Championships!
Posted on: 16 April 2019
The 22nd annual Australian Dragon Boat Championships (AusChamps) were held at the Rowing Course,Yarralumla in Canberra last week and Dragons Abreast Australia is proud of our groups who competed in the Breast Cancer Survivor categories
DA Penrith, Canberra, Sydney and Brisbane all paddled in the AusChamps, Australia's premier Dragon Boating event in which clubs from all states competed against one another for the title of National Champion. AusChamps is an annual event, held in a different State/Territory each year.
At this year's event, DA Sydney came first, DA Brisbane and DA Penrith in second and third place respectively.
The souvenir program can be found here.
Well done crews!
Thankyou to Julie and Alison Kesby for the great images!