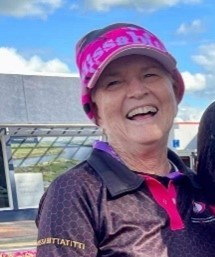 Joy Geaney – Individual Member (Redlands Sea Dragons)
Posted on: 12 July 2023
I started my Dragon Boat journey in 2007.
While having treatment for Breast Cancer I watched the local Dragon Boats having fun out on the Bay. I told my husband I will do that when this is finished.
I joined Redland Sea Dragons in 2008 and found my happy place and a new family.
My friend Annette and I were introduced to Dragons Abreast Brisbane at a local regatta, and we were invited to join them at a IBCPC Festival in Canada.
We had found an amazing new group of women and our journey in Dragon Boating had become more exciting. We were known as the Redlands Girls.
We were welcomed into the family of Dragons Abreast Australia and the adventures began.
Regattas organized for us by Dragons Abreast Australia in Lake Burley Griffin / Darling Harbor / Lake Kawana / South Australia.
International trips to Canada, Italy and New Zealand.
Now it's time for me to give back, I have returned home to Redland Sea Dragons with the hope of sharing my love for the sport to local Breast Cancer Survivors.
With the help of Dragons Abreast Australia and Redland Sea Dragons we hope to establish a new group of Survivors.
We hope to raise awareness of breast cancer in our local community and the quality of life after breast cancer by being part of a club that are all about having a go and having fun, smile and laugh.