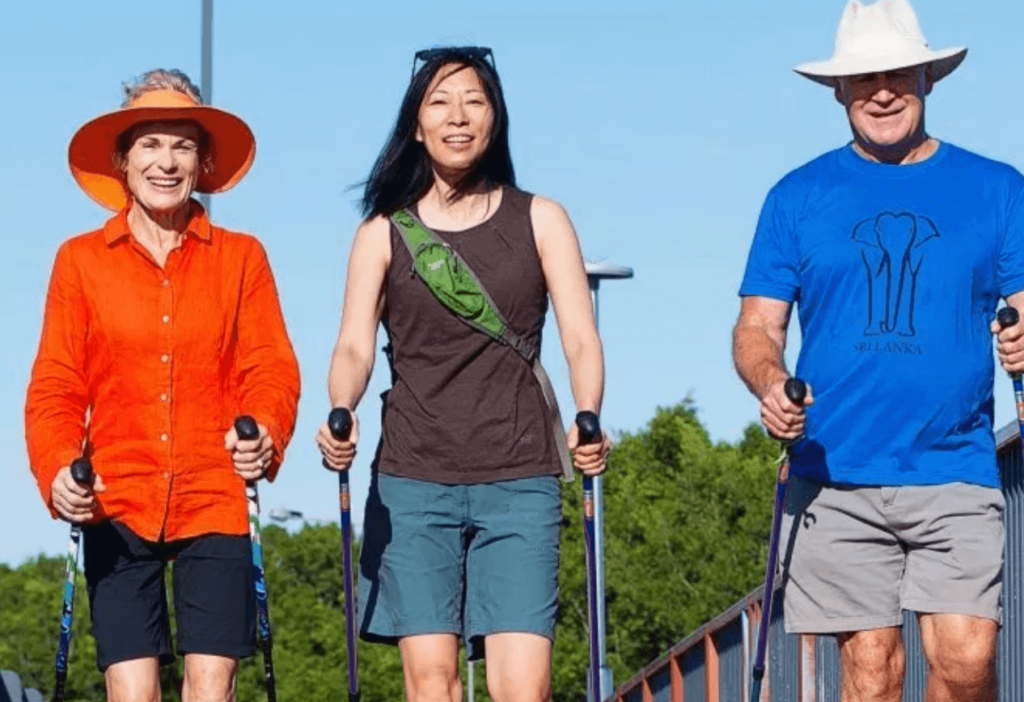 When you can't paddle, why not pole?
Posted on: 30 July 2019
Earlier this year, Dragons Abreast Australia members were introduced to Urban Poling, a form of walking using specialized hand held walking poles developed by Canadian Occupational Therapist Mandy Shintani.
Mandy was familiar with Dr. Don Mackenzie's research on the benefits of dragon boating for breast cancer survivors and recognised similarities between dragon boating and Urban Poling. She trialled Urban Poling with several Canadian breast cancer dragon boat teams who enthusiastically embraced it as an off-water training activity.
Over the years, Urban Poling has continued to focus on supporting breast cancer research and programs through the sale of their Pink 4Life poles.
Pole walking Australia, who are Australian distributors of Urban Poles, have now chosen to donate a portion of their sales to DAA in recognition of their work to improve the lives of those who have had breast cancer. "We are really pleased to be able to support such a worthwhile activity that not only improves physical health, but provides a supportive community for members, and so we feel that we have very similar aims to improve people's quality of life through many channels" said Dr Juliette Fritschi, from Pole Walking Australia, on presenting the donation to Mabel Sansom, Chair of the DAA board, in July in Canberra.
While Dragons Abreast Australia is all about paddling, Urban poling is an activity that can assist paddlers by providing cross training, core stability and upper limb exercise. It is useful for paddlers in off-seasons like drought, if members want to get together for some xtra training, or for groups who have members who want to be part of the group but don't paddle.
Urban Poling has a specific on-line training course and a special 4-Life pole rate for DAA members of 15% off the RRP. For further information, contact https://www.polewalkingaustralia.com.au/ or [email protected]