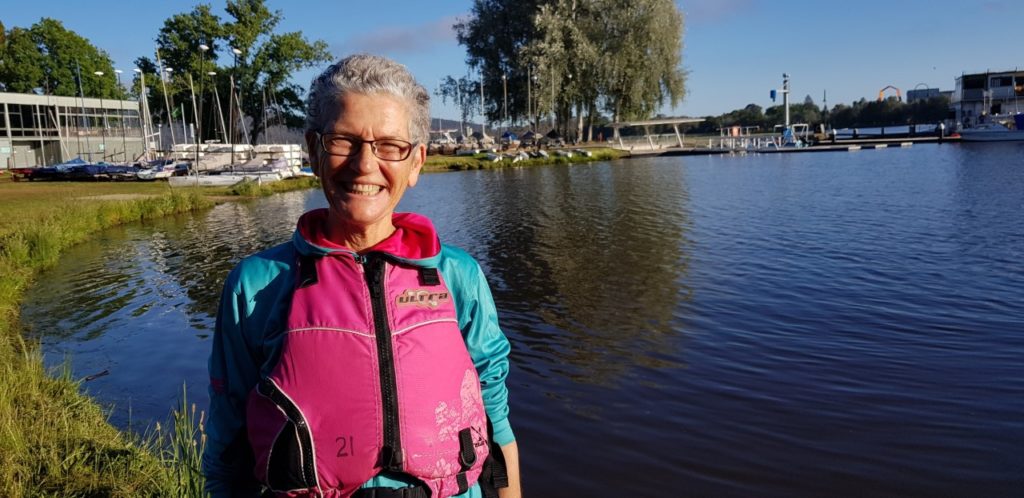 Fiona Maguire – DA Canberra
Posted on: 10 November 2020
Serendipity
I love being outside in nature and I love being on the water; being a fish sign and all. It's little wonder that I jumped at the opportunity to try dragon boating when my neighbour, Denise Brown, invited me to paddle with Dragons Abreast Canberra…when I was up to it. Luckily, my treatment eased off just when the weather started to warm up.
It's so beautiful on the water and everyone is so helpful and supportive. I'm a team player but have never played team sports, except once when I played softball and felt I let the team down, big time. Also, I'm not that fit. You require substantial stamina to keep up and keep going. So being in the boat and keeping time was a bit of a challenge. Well at least the thought of it was, but everyone is amazing. I do my best and they do theirs to make sure I know what to do and to encourage a rest when I need it. My feeling of accomplishment when I improve my technique and paddle further is substantial. There is potential for so much more improvement.
I feel confident enough now that I can appreciate the wonderful company, being part of a team, the amazing sunrises, the water, the hills and even the exhilaration of paddling in rough water. Thank you!
Photo: Fiona Maguire – newbie
Photo Credit: Kerrie Griffin