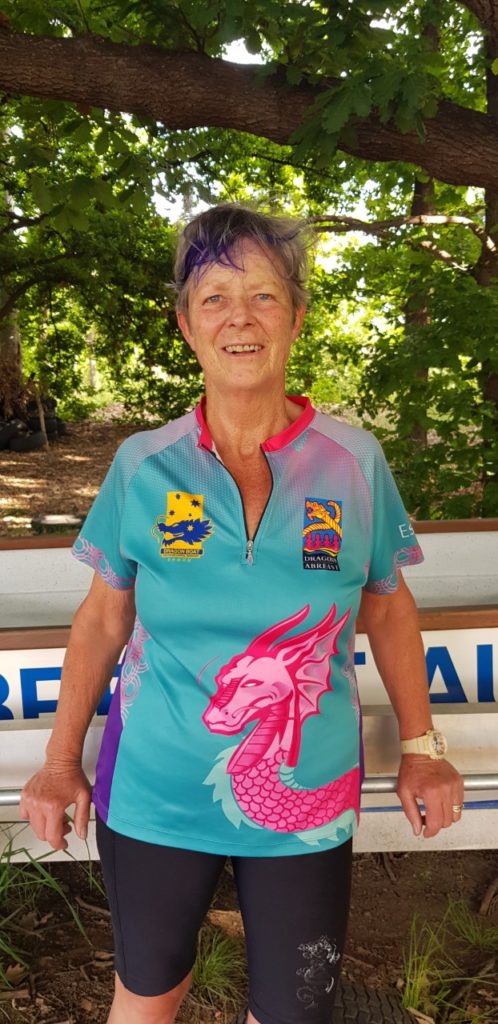 Julie Chynoweth – DA Canberra
Posted on: 13 November 2020
Just say yes!
Following my first breast cancer diagnosis in 2013, Lisi Bromley, a workmate, talked to me about dragon boating. It sounded great, but, I was still playing field hockey and involved in junior baseball (for the Rebels Baseball Club); so I didn't do anything about it.
In 2015, I was diagnosed with breast cancer again and following treatment and a hip replacement, I decided to give dragon boating a go. (Lisi had kept talking to me about it all this time!) On 10 September 2016, I turned up ready to try paddling with Dragons Abreast Canberra. I met some very friendly paddlers, shown the paddling drill on land and Elly was my boat partner. It turned out to be a regatta training session and I soon found out about race starts and the 200 m distance. I did bring the paddle in a couple of times, but as I am very determined, I was an active paddler. Back on shore, I was exhausted but beaming and hooked on dragon boating.
I participated in the DA Canberra Social and Corporate Regatta with ATSB Propeller Heads and had a ball. My first DB ACT regatta was on 29 October 2016 and I was unsure of how I would go in the 2 km race. I had a huge grin on my face at the end of the race. I participated in the Nationals, IBCPC Florence 2018 and very much looking forward to paddling in IBCPC New Zealand in 2022.
In 2018, I decided to give back to this fantastic club as I've had so much fun and support. I joined the Dragons Abreast Canberra Committee as the Assistant coordinator. I've been the Coordinator since 2019 and despite hurdles and obstacles such as smoke, bushfires and COVID-19 our club is strong.  Just say yes!
Photo: Julie Chynoweth Dragons Abreast Canberra coordinator
Photo Credit: Kerrie Griffin